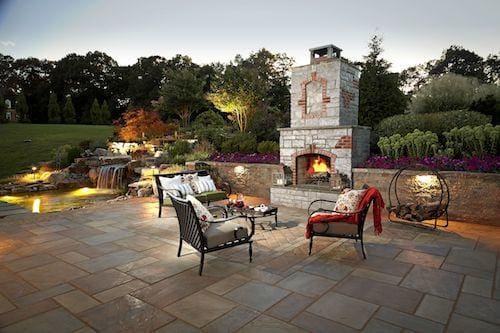 Who wouldn't love curling up next to an outdoor fireplace on a chilly Northern Virginia fall evening? Or hanging out in your backyard year-round, enjoying s'mores while chatting with family and friends? Summer may be coming to an end, but there's nothing stopping you from turning your summertime oasis into a four-season refuge.
Outdoor Fireplaces
A fireplace can be custom-designed and installed by a masonry expert, enabling you to choose the design that works best for your patio and your budget. They can be incorporated into your space for more of a "built-in" look or completely freestanding, creating a new seating area for your outdoor area. The facades can be brick, stone, marble, or even a type of fire-resistant glass. They can also be gas or wood-burning, depending on your preference.
If you love details, consider features like built-in wood storage, reclaimed wood mantels, bench-height hearths, and soft, subtle lighting. You can even incorporate a pizza oven for hours of family fun.
Fire Pits
If you have a smaller space, a fire pit may work better as your heat source. They are extremely popular, so the options are endless. You can build one into your space like a fireplace, customizing it to your needs, or you can purchase one at your local hardware store and simply unpack it from a box. While masonry fire pits offer unique details like stone facades and built-in seating, pre-built kits can be extremely affordable and easy to set up. Pits are generally either wood or gas, and can come in their traditional shape or in the form of a table, urn, or tabletop accent. They can also be incorporated with water features for an extra-special focal point.
Chimineas
Chimineas are also ideal for small spaces. Unlike the open, 360-degree design of a fire pit, chimineas are more like fireplaces. They are traditionally made out of clay and shaped like large vases, but now you can find them in materials like sheet steel, copper, cast aluminum, or cast iron. By feeding wood into their bellies, you can achieve a very clean-burning and efficient fire. The only drawback of chimineas is durability. Cast aluminum tends to last longer than other materials but beware of finishes that are prone to rust, warping, and cracking.
Patio Heaters
Patio heaters are also available in many varieties and styles. They may not seem as comforting as a blazing fire, but they can still provide decent warmth during cold-weather months. Heaters can be free-standing, tabletop, or wall-mounted, and typically run on natural gas, propane, or electricity.
Outdoor Kitchens
There's no rule that says you must "rough it" if you want to spend time outdoors. An outdoor kitchen is another excellent way to season-proof your patio, making it a place to entertain and relax no matter what the weather is. Kitchens can be custom-designed to meet your needs with features like refrigerators, counters, cabinets, dishwashers, wine coolers, and sinks. You can incorporate grills, cooktops, and pretty much anything else you would find in your standard indoor kitchen. To make it blend in with the rest of your space, your contractor will finish it off with stone, tile, brick, or stucco.
Extend your living space this fall.
There's no reason why you shouldn't enjoy your investment year-round. Before the holiday parties begin and snow hits the ground, find a way to make your outdoor space work year-round. Contact us to schedule a free estimate.
Want to learn more about outdoor living spaces? Click here.